I wanted to take a moment to reflect on the different seasons of business and the importance of giving ourselves permission to set boundaries and take a break!
Just like there are four distinct seasons throughout the year, our businesses also go through different seasons. Understanding these seasons can help us recognise when to push forward with big ideas, sales periods, launches, and when to take a break and rest. This idea was introduced to me by a business coach (Jo ChunYan) a few years ago and it really changed my whole outlook on business. I started to recognise the times in business when I was feeling more creative/inspired and times when I could recognise that taking a break was the best thing I could do for my business to move forward. As entrepreneurs, it can be easy to get caught up in the hustle of our day-to-day operations and forget to take a step back, and assess which season we're in and where our energy levels are at.
If you're feeling burnt out or unmotivated, please give yourself permission to a break from your business over the easter period! Taking a step back and allowing yourself to recharge can do wonders for your creativity and productivity. Remember that everything is cyclical, and eventually, things will shift. One key way that we can efficiently move through the seasons and get to a place where we feel comfortable taking regular breaks is by setting clear boundaries.
How to set boundaries with your clients:
1. Firstly define your boundaries: Before you can communicate your boundaries to your clients, you need to define them for yourself. Decide on your working hours, communication preferences, and the types of work you're willing to take on. Once you've established your boundaries, it will be easier to communicate them to your clients. Stand behind these!
2. Communicate clearly: For those of you with service-based businesses, be upfront with your clients about your boundaries. Let them know your working hours, how you prefer to communicate (e.g., email, phone, text), and when you're unavailable. Display this information on your website or in your email signature. If you are onboarding a new client make sure to include your boundaries in your onboarding communications.
3. Set expectations early: Be clear about what you can and cannot do, and establish a mutual understanding of the scope of work your client can expect from you. Setting expectations early can help avoid misunderstandings and prevent clients from overstepping your boundaries.
4. Be consistent: Once you've established your boundaries, stick to them. If you've set specific working hours, don't respond to emails or calls outside of those hours. Schedule your emails to go out during your normal working hours. If you struggle with this consider pausing your inbox outside of working hours or setting an automatic OOO email reply to go out during your non-work hours.
5. Offer alternatives: If a client or customer asks for something that is outside of your boundaries, try to offer alternatives that still meet their needs. This shows that you're willing to be flexible while still maintaining your boundaries.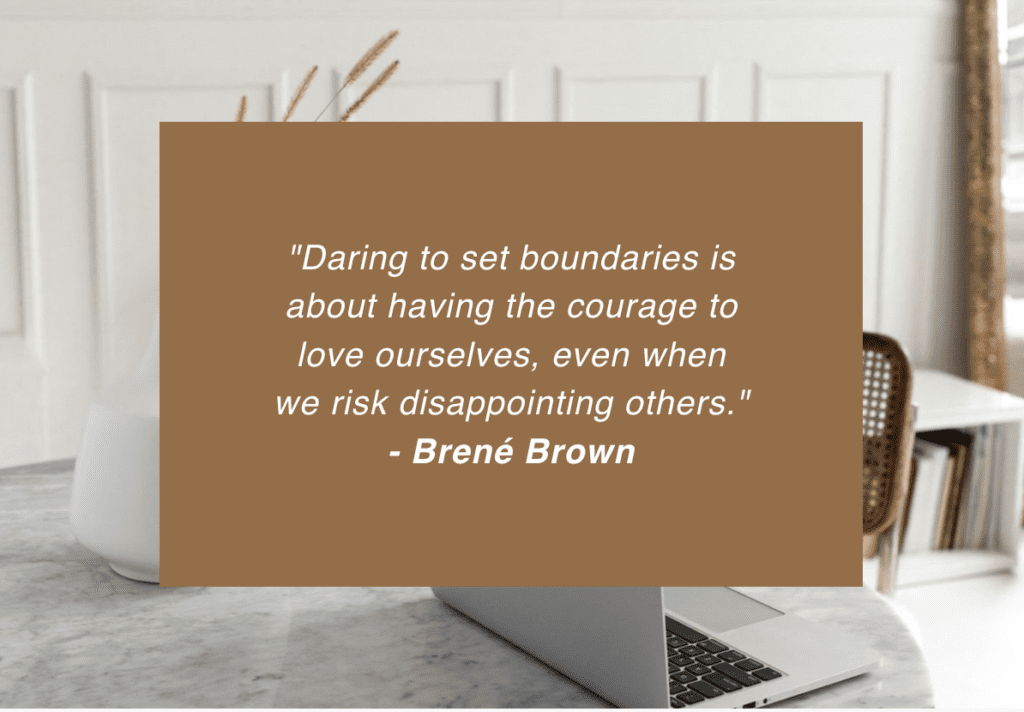 Having boundaries in business was a topic that came up quite a bit at our recent networking events and I think it's something we have all been guilty of ignoring as small business owners. We find ourselves going above and beyond for our clients/customers but at what cost to ourselves?
Creating a schedule that allows for downtime is a great way to help establish boundaries.
Michelle from Half Light Studio (our guest speaker from Hawke's Bay) shared the schedule that she uses, which her husband also has access to! They have a shared calendar that all important meetings/appointments/reminders for the kids/work schedules are added to. That way everyone can be across what's happening and downtime (away from businesses) is scheduled into the calendar. Michelle even had her bedtime scheduled!
By creating a schedule that allows for downtime and communicating your boundaries to your customers/clients and team, you can prioritise your well-being while also achieving your business goals.
Remember, taking care of yourself is essential for both your personal and professional success!
Lisa
X